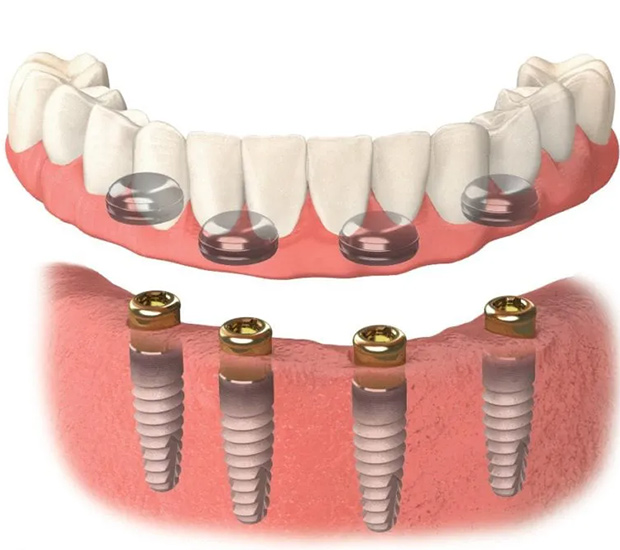 Snap-On Dentures
Middle Island, NY
Snap-On Dentures
Snap-on dentures, also known as implant overdentures, are a fantastic development in dental technology which allows for dentures to be secured to the jaw, providing protection and strength to the bone, and allowing the patient the pleasure of having replacement teeth that look and feel as good as natural. Snap-on dentures negate many of the negative aspects of conventional dentures.
What Are Snap-on Dentures?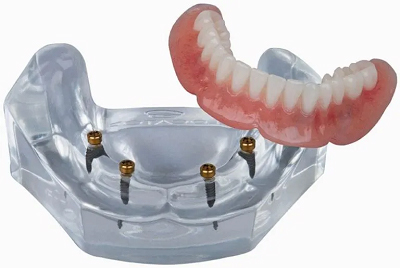 Ordinary dentures only sit on the underlying bone of your mouth and provide replacement teeth which can be removed. Snap-on dentures, on the other hand, are fixed to a set of dental implants, which gives them extra security and stability in your mouth.
A new set of cosmetically beautiful and functional dentures will then be made to fit your mouth precisely. Full or partial Snap-On dentures are available, and in the case that you have remaining teeth that are strong and healthy, you may be able to keep them. These will then be fitted with the implants.
It is important to remember that the dentures are still removable. You will take them out at night and clean them. The difference is that you will be able to snap them on and off. When snapped on they will work like real teeth, offering many benefits over traditional dentures.
Advantages Of Snap-On Dentures
STABILITY:
They will not slip about in the mouth, nor will they ever fall out. Snap-on dentures are attached to the dental implants are fitted to the jaw, which gives them perfect stability that will not worsen during long term use.
FULL PROTECTION FOR THE JAW:
The protection offered for the jaw is one of the major benefits that cannot be underestimated. You will exercise your jaw by chewing and speaking, and this will mean your bone structure will stay healthy, and your facial structure intact.
CHEW & SPEAK WELL:
They will never slip out, they will never budge, and you don't have a palette in your mouth; which gives you the full ability to eat what you usually would, talk, and smile with confidence.
LESS EXPENSIVE THAN BRIDGEWORK:
The alternative to snap-on dentures is bridge work, and although this is a solid and supportive option, snap-on dentures tend to be a less expensive dental treatment.
Conventional Dentures
DENTURES TEND TO SLIP AND MOVE.
Not secured to anything, dentures can move around in your mouth, and sometimes even fall out. The dentures can also rub against your cheeks and gums, and cause your mouth to be sore. This is especially likely to happen after several years, after the jaw starts to wear.
ORDINARY DENTURES DON'T PROVIDE PROTECTION FOR THE JAW
If not exercised properly, just like the muscle, bone starts to wear away and deteriorate. Dentures are quite functional, but they are not attached to your bone structure, therefore provide little regarding protection. After years of wearing conventional dentures, it is likely that the jaw will start to give way, which can change the shape of your face.
DIFFICULTY CHEWING & SPEAKING
As the dentures start to lose their fit, many people find that they experience difficulties chewing and speaking. The adhesives used to keep the dentures in place fail often, and you may find that certain foods are off the menu. The palette on the upper jaw dentures is also a usual cause of discomfort for some people, who do not like the feel on their mouth.
The Snap-On Procedure
Now that you understand what snap-on dentures are, and what advantages they have over traditional dentures, what can you expect from the procedure itself?
The treatment is tailored to the individual and their needs. Having a few simple dental implants installed is much different to having bone grafting surgery to support them for example. An initial consultation will help us to diagnose the condition of your mouth. Preparation work for dental implants can include tooth extraction, and gum and bone grafts.
Preparation aside, the dental implant procedure is relatively straightforward. Your dentist will fix a titanium screw like fixture to replace the root of your missing teeth. The number of implants can vary but tends to be 4 for the top, and 2-4 for the bottom, in a particular position that will provide the best structure and security.
An abutment will be attached, and then when the implants heal, you can have a set of replacement teeth in the form of dentures, which will snap on and off the abutments. These will have been custom made for you in a laboratory, usually using data obtained from a CT scan during the initial consultation.
Should I Get Snap-On Dentures?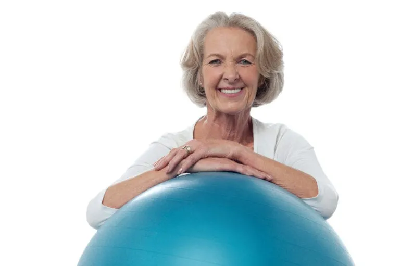 Snap-on dentures are a useful treatment for anyone who is already using dentures who wants to benefit from this amazing dental technology. If you already wear dentures or prefer dentures over the idea of dental implants with bridges, then snap-on dentures provide you with a long term solution that gives you natural feeling and well-functioning teeth.
Total Dental Care offers a range of dental solutions for missing teeth, from dental implants to dentures, and everything in between. Your dental implant dentist will discuss your options for dental surgery with you during your initial consultation, which we offer free of charge. Contact us today to find out more!
REQUEST A COMPLIMENTARY CONSULTATION
With 3-D CT Scan. A $350 value
Recent Posts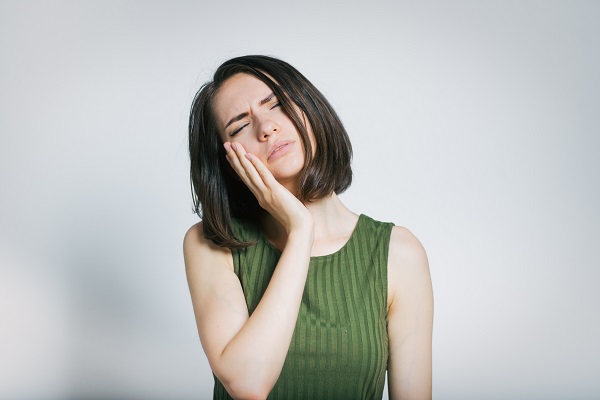 An emergency dentist is indispensable. You can never know when a dental emergency, such as a broken tooth, will happen. Panic may overwhelm you, but it should not. One of the most common dental emergencies is a broken tooth. If you want to see an emergency dentist for your broken tooth, here are the things…